Spiritual Counseling Degree or

Pastoral Counseling Degree

Accelerated Metaphysics Bachelor's, Master's, and PhD Degrees
Spiritual Counseling, or
Pastoral Counseling
Bachelor of Metaphysical Science MSc.B
Master of Metaphysical Science MSc.M
Doctor of Metaphysical Science MSc.D or Doctor of Philosophy PhD
Certified Spiritual Counselor (CSC) designation
[For a Bachelor's-only or Bachelor's/Master's-only degrees, see Degree Program Tuition & Enrollment Info]
• Study at Your Own Pace - Accelerated Format - Excellent for Busy People
• Earn your degrees in 3 to 12 months (average is 10 to 12 months)
• Start Anytime, Study Anywhere - 100% Online
• All Study Material Included
• No Contracts - No Prerequisites
The Spiritual Counseling or Pastoral Counseling degree is the primary path for students who desire to conduct spiritual counseling, transpersonal counseling, life coaching, write books, do training or speaking, practice holistic arts, conduct pastoral social work, and more. This degree program will teach students our proprietary style of coaching/counseling called Life Leadership Coaching --A Transpersonal Approach to Self-Completeness. This model of counseling/coaching is both brilliant and elegant as well as extremely effective in assisting others.
This intensive program teaches students many practical life skills with the intention of better helping clients, as well as many specific coaching/counseling techniques. Life Coaching focuses on helping clients achieve goals and overcome personal and professional challenges whereas Spiritual Counseling primarily addresses the spiritual nature of client issues and is an integral part of pastoral counseling. Students will learn techniques for both counseling and coaching modalities so that they may be better equipped to address a variety of client needs.
Graduates are provided with a full complement of discovery and analysis forms. Note that our Spiritual Counseling program does not incorporate any specific religious teachings. In fact, Spiritual Counseling does not require religion to be effective, but you are free to incorporate what you learn into your own religious teachings, if desired.
This degree is a good choice for:
• Spiritual counselors/coaches
• Metaphysical ministers/pastors
• Spiritual practitioners
• Spiritually-focused individuals
• Spiritual writers, authors, bloggers
• Psychics/Intuitives/Mediums/Sensitives
• Personal and spiritual growth
This degree requires nine predetermined courses for graduation. Students are welcome to take additional courses either during the Master's Program or anytime after they graduate with their Doctoral degree. FYI, any G (General) courses below can also be taken as single courses outside of the TFU Degree Program. Visit the Course Descriptions page to enroll in single courses.
Required courses for this degree are:
Bachelor's Courses:
G70: Metaphysical and Spiritual Self-Mastery

G80: Principles of Empowered Relationships

G90: Relationships and Healthy Boundaries

G100: Personal and Professional Intercommunication Skills

G130: Life Management Skills –Problems, Goals, and Time
Master's Courses:
G140: Metaphysical Psychology

A50: Spiritual Reinvention and Ministerial Ordination

A60: Transpersonal Counseling and Coaching Course 1

A61: Transpersonal Counseling and Coaching Course 2
Additional Recommended Course(s) (not included):
G360: Starting a Professional Practice or Ministry
Additional Information:
Courses are taken one-at-a-time in the order they are listed.

A Bachelor's diploma is issued after completing the first five courses.

A Master's diploma is issued after completing the remaining four courses.

A Doctoral diploma and ordination are issued upon completion of the Doctoral Thesis which takes the form of answering several questions about the courses you completed.

Ordination from the International Church of Metaphysical Humanism or another bona-fide religious institution is required for graduation.

A CSC (Certified Spiritual Counselor) designation and Practitioner's Certificate is issued upon completion of the Doctoral degree.
| | |
| --- | --- |
| Five Bachelor's Courses Above: | $375 |
| Four Master's Courses Above: | $470 |
| Doctoral Program: | $300 |
| Application Fee: | $50 |
| Total Tuition: | $1,195 |

All enrolled courses are accessible from your Dashboard

All Major Credit Cards, Debit Cards, and PayPal Accepted

Payment Plans: (You will choose your payment plan when enrolling)

Full Pay Plan: $1,095

Pay the tuition in full and deduct $100. Total tuition: $1,095. With this plan, you will be enrolled in all of your required courses immediately upon enrollment.

$125 Down, then 6 Monthly Payments of $178.33

$125 down (due immediately), then 6 equal automatic monthly payments of $178.33. We will contact you to set up your payment plan after you have enrolled. Your down payment covers your first course and application fee. With this plan, you will be enrolled in as many courses as your current student account balance will allow. Once a new monthly payment is made, you will be automatically enrolled in more courses.

$125 Down, then

Pay-As-You-Go

Pay $125 for your first course and application fee during the enrollment process, then pay for each course individually as you go. Courses range from $75 to $125 each. Students who choose this plan can simply enroll themselves by finding their next course on the Course Descriptions page and clicking on the "Enroll" button next to the course title. Students will always be informed of their next course upon completion of the previous course.
All tuition plans include:
Bachelor's, Master's, and Doctoral Degrees.

All required courses listed above.

All online study material included (no additional book fees).

All online exams and assignments.

Instructor access and support.

Bachelor's, Master's, and Doctoral diplomas (digital PDF and printed).

Postage and shipping for printed graduation documents.
This Degree Program also includes:
Ordination in the International Church of Metaphysical Humanism (ICMH), if desired.

ICMH Ordination Credential (if applicable) (digital (PDF) and printed).

Letter of Good Standing for ordination (if applicable).

Laminated Clergy ID Badge with lanyard and clergy dashboard parking sign (if applicable).

Clergy Resources with 7 different ministerial certificate templates (marriage, commitment, handfasting, baptism).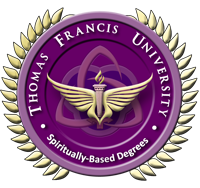 Last modified: Sunday, 24 September 2017, 9:31 PM